Surveillance cameras are one of the fastest moving segments of the low-voltage industry.  They're getting less expensive and the technology is constantly getting better.  We understand that everyone's needs are different, and we want you to be happy.  We will sit down with you and put together a custom camera system.  Our first job is to teach and we want to help you make an informed decision.  Knowing what you can and cannot expect from a surveillance system is extremely important.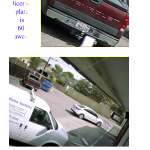 We are available to install small residential systems as well as large commercial systems and everything in between using either analog or digital equipment, or both.
Remote access to your camera system is integral to your security, and every camera system today is capable of giving you the ability to see your cameras no matter where you are.  Whether it's keeping an eye on your pets or yard, inside and/or outside, trying to protect your property from criminals, or helping to manage your business, we can provide a solution.
We know you have expectations and it is our job to help you fulfill those if at all possible.