So you've picked up a couple of flat screen TVs for your home and need them mounted on the wall.  Sure, we can do that!  What many people find when they do it themselves is just how many cables and cords run between the TV and all the components.  Of course, there is an electrical cord.  Then there is the HDMI cable from the satellite/cable box.  Another one for your DVD player, and maybe a third from your gaming system.
And now you've spent all that money on the nice TV and you've got a mess of cables hanging down the wall.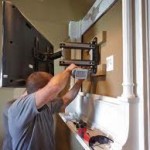 We can solve that.  Let our A/V specialists install all the wiring in the wall and hook up all the equipment professionally for optimum performance.
We carry a complete line of high quality TV mounts.  Don't risk your valuable TV on a cheap mount.  Whether you need a tilt-mount, full articulating bracket, or maybe an ultra-slim mount, we can find the appropriate equipment for your size of flat screen, and install your TV security and safely on your wall.
Maybe you even want to put all the components in a closet for even a cleaner look?  We can do that, too.  Using infrared repeaters or RF signaling, you can keep your surround sound receiver, satellite/cable box, and DVD player tucked away and still be able to use the remote to control all of your equipment.
Call us